BONUS #2
FULL ACCESS TO THE 5-DAY GET MORE REPINS CHALLENGE!
(VALE: $197)
I'm bringing you this hands-on course, teaching you the 5 simple steps to take your Pinterest repins from 1 - 10/100/1,000 and even higher!
HERE IS WHAT'S INSIDE...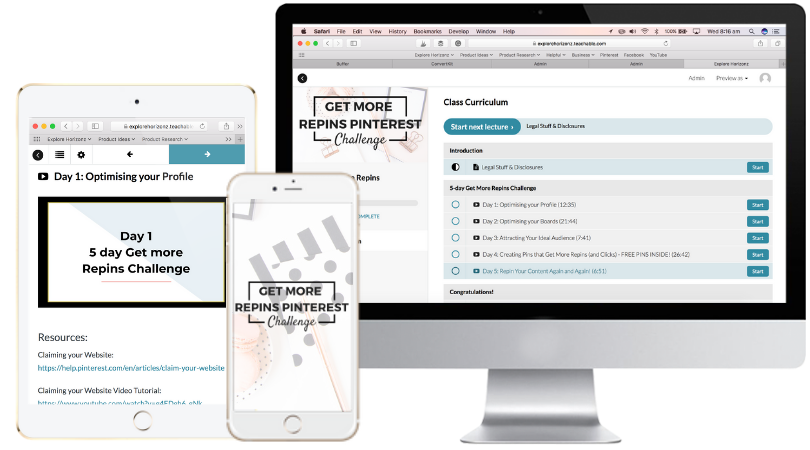 Day 1: Optimising your Profile - In this first lesson I talk about getting your profile business appropriate and savvy so that you are attracting the right audience that want to know about your products, services, and content.
Day 2: Optimising your Boards - Your boards are your bread and butter of your Pinterest profile, so it's imperative that we learn just exactly how to name them, and structure our descriptions to rank for keywords and give our pins the boost they need to appear higher in those searches.
Day 3: Attracting Your Ideal Audience - This lesson is dedicated to understanding what makes our audience tick...what makes them click and what they want to repin and why. I go deep into what strategies you need to learn to make more content or pins that your audience wants to repin, and click over onto your website.
Day 4: Creating Pins that Get More Repins (and Clicks) - We will learn the basics of good pin design, how to make them visually attractive and how to take what's working NOW and implement that design into our own templates for our pins to make new pins in under 10 minute!
Day 5: Repin Your Content Again and Again! The last part of the repinning strategy we will go into the reasons why you want to repin your own pins and where to pin them to, also where to pin them from to give your pins that extra boost and grow your profile even faster.
PLUS: Each lesson is accompanied by a workbook I specifically created so that you can put your new knowledge to the test, helping you implement and improve your new skills straight away.And the best news? This course was specifically created for newbies in mind. NO NEED to learn all these skills and techniques before taking the challenge, I explain everything in detail for newbies and intermediate students.